This week ESPN fired pitcher-turned-broadcaster Curt Schilling for an allegedly offensive tweet about the recently passed law in North Carolina requiring persons to use the restroom associated with the sex of their birth. As an example, transgender men in North Carolina would be required to use the men's bathroom, and not the female bathroom, even if they dress and live as a female. An article about the firing can be found here.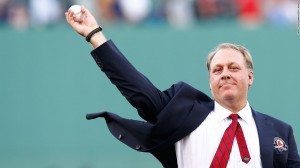 This case drives home that even a high profile celebrity can be fired for what he or she says on social media. Simply put, with limited exceptions, a private employer can lawfully fire an employee for posting an embarrassing or offensive statement on social media. Government employment is different because of constitutional rights to free speech, but no such rights exist for private employees. What happens on Facebook does not stay on Facebook; and every user of social media should consider the ramifications of their message being read by the Human Resources department or their supervisor.
So what are the exceptions? First, if an employee has an employment contract or collective bargaining agreement limiting termination to "just cause," employers should proceed with caution. There is little authority that an offensive tweet or Facebook posting meets this standard. The second exception is "protected concerted activity," which means certain communications among employees about the workplace are protected from retaliation under federal labor laws. As an example, a tweet in support of a $15 minimum wage accompanied by a complaint about the wages earned by the employee, which is "liked" by numerous coworkers, is probably protected. An embarrassing tweet about a poorly dressed customer (think Wal-Mart) would typically not be protected. Lastly, some states have laws protecting employees from retaliation for engaging in lawful activities outside the workplace. Although there is little authority on this point (as the laws were not written to protect this conduct), it is reasonable to expect that lawsuits may be brought in such states against employers who fire employees for engaging in speech outside the workplace that is not otherwise unlawful (i.e. defamatory, threatening, etc.)
Obviously, most political statements by employees won't make the news because they are not famous like Schilling. That said, HR departments are increasingly being inundated with complaints about insensitive or non-politically correct social media posts by coworkers. This issue is not going away any time soon, so it is important for employers to understand the lines that cannot be crossed.